QUALITY CUSTOM PNEUMATIC SOLUTIONS SINCE 1955
Your Company for Air Presses, Air Cylinders, Air Valves and other Pneumatic Automation Components.
Proudly Made In the USA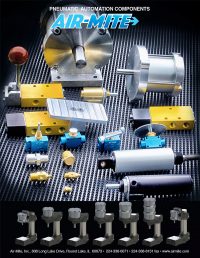 Since 1952 Air-mite has been your source for all things pneumatic.  While we are famous for our presses, you can also find a broad select of pneumatic controls, pneumatic cylinders and valves.  Air-mite manufactures a pneumatic solenoid valve for virtually any need or situation. Browse our catalog below to view a variety of air cylinders.  We have a full line of tie rod cylinders, nose mount cylinders and even a single action air cylinder. We also provide custom air control valve designs.
If your project requires a specific pneumatic actuator we can help with that as well.  Combine with one of our pneumatic solenoid valves for a proven and reliable solution for your next air project.  As mentioned above, all these items can also be custom designed and built to your exact specifications.
Air-mite specializes in all forms of industrial controls, cylinders and valves.  We have our own quality control team that does extensive testing on all our products to ensure they are not only sturdy but function as needed the first time.   Our valves are available with a variety of different operators: manual, mechanical, solenoid, or air-piloted.
Air-mite presses are designed to be adjustable, giving you the right amount of air pressure, allowing you to control the force it outputs.  In fact, most of our presses are made to order.  If you need a custom designed and built air press then you need Air-mite.
Contact us today to find out how we can help.