QUALITY CUSTOM PNEUMATIC SOLUTIONS SINCE 1955
Your Company for Air Presses, Air Cylinders, Air Valves, and other Pneumatic Automation Components.
Proudly Made In the USA
Review our repair kits for Air Presses, Air Cylinders, Air Valves, and other Pneumatic Automation Components.
Proudly Made In the USA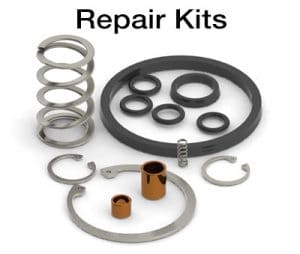 Pneumatic Controls Systems Components
Since 1952 Air-mite has been your source for all things pneumatic.  While we are famous for our presses, you can also find a broad select of pneumatic controls, pneumatic cylinders and valves.  Air-mite manufactures a pneumatic solenoid valve for virtually any need or situation. Browse our catalog below to view a variety of air cylinders.  We have a full line of tie rod cylinders, nose mount cylinders and even a single action air cylinder. We also provide custom air control valve designs.
If your project requires a specific pneumatic actuator we can help with that as well.  Combine with one of our pneumatic solenoid valves for a proven and reliable solution for your next air project.  As mentioned above, all these items can also be custom designed and built to your exact specifications.
Air-mite specializes in all forms of industrial controls, cylinders and valves.  We have our own quality control team that does extensive testing on all our products to ensure they are not only sturdy but function as needed the first time.   Our valves are available with a variety of different operators: manual, mechanical, solenoid, or air-piloted.
Air-mite presses are designed to be adjustable, giving you the right amount of air pressure, allowing you to control the force it outputs.  In fact, most of our presses are made to order.  If you need a custom designed and built air press then you need Air-mite.
Contact us today to find out how we can help.
Offering over 70 years' experience in pneumatic controls, Air-Mite is a company you can trust and count on when it comes to all of your system component needs.  From pneumatic air valves, to pneumatic actuators, to safety controls, to repair kits and so much more we cover it all when it comes to pneumatic automation products, service and support.  If you have any questions or requirements regarding air presses, air cylinders, air valves, safety controls or any other pneumatic system components Air-Mite is always around to facilitate your requests. Featuring custom valve solutions and specializing in valve design there are no pneumatic control projects we cannot handle.  As experts in everything related to pneumatic system components, we pride ourselves on the ability to manage a wide variety of air press, air cylinder and air valve solutions.  Whatever the pneumatic control circumstances may call for we can help in completing the installation and application process.
Showcasing pneumatic automation components, like the pneumatic actuator, that are all proudly made in the USA, Air-Mite is a company that not only delivers high quality parts but one that keeps a laser focus on attention to detail.  Backed by a professional, friendly, knowledgeable and well-trained staff you can always feel confident when working and placing an order with Air-Mite.  Dedicated to the entire customer experience when it comes to pneumatic controls there is no detail left out regarding the purchase and delivery of pneumatic system components.  Also supporting custom made to order cylinders, valves, presses and parts regardless of your setup or project parameters we can tailor our outputs and system components to your exact specifications.  No matter what operator type you are looking for from manual, to mechanical, to solenoid, or air-piloted we have configurations, pneumatic controls and pneumatic system components that provide elite performance in a wide variety of production scenarios.  Feel free to contact us at any time to go over exactly what you require to complete your next business implementation successfully.